With Liverpool set to face AS Roma in the Champions League semi-finals, we take a look at how they fared in their latest high-stakes fixture in Serie A.
Eusebio Di Francesco's side faced Rome rivals Lazio on Sunday evening, with more at stake than just local pride.
Both teams are fighting for the fourth and final Champions League spot in the Italian top flight and headed into the game level on points: Roma fourth, Lazio fifth.
That continues to be the case after a feisty 0-0 draw, and a match which offered a glimpse at what Jurgen Klopp and his team will be up against in the last four.
Given it was a derby and had so much riding on it, as well as taking place in the Stadio Olimpico, this was as close as Roma will come to replicating the high-intensity occasion of a Champions League match before the Anfield showdown.
System and setup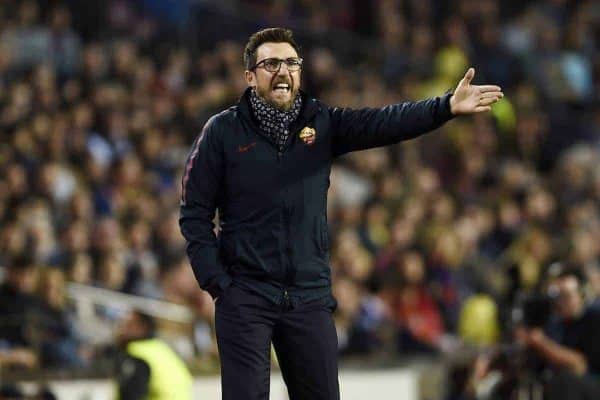 Despite having been a 4-3-3 side for most of the season, Di Francesco kept faith this weekend with the 3-4-3 variation he used in the second leg against Barcelona.
It appears more than possible that will be his go-to system for big matches for the remainder of the campaign now, rather than a one-off for the comeback mission in the quarter-finals.
Furthermore, even after second-half substitutions, Roma remained in the same shape until late in the game, moving back to 4-3-3 after Lazio were reduced to 10 men.
It's clearly something the boss wants to persist with at this stage.
"I knew, however, that I couldn't ask…